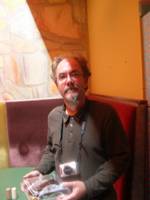 NOB HILL--Mark Justice Hinton and I met for coffee yesterday morning. I had appeared with Mark (and Pika) once on Jim Scarantino's first radio show, but never really got to talk to him. We have a lot in common.
The first thing is a love of New Mexico and its wilderness areas. Mark and his wife Merri Rudd have a little camper and park it most anywhere that's beautiful...like the remote campgrounds in the San Mateo Mountains. MaryAnn and I are still pulling out the tent, but that's because I love sleeping on the ground. In fact, one time I counted it up and I have spent about two years sleeping on the ground.
Another thing is that Mark pays attention to politics and tries to direct us to issues that need our attention. I pay attention, but I still seem to be in something of a post-election funk. And lastly, Mark is a true geek. Me...I just fool around and have never approached anything like true geekdom.
Well, maybe we don't have THAT much in common. Maybe we do, but our degrees of commitment are a little different. The deal is Mark has a separate blog to deal with each one of these issues!
Wilderness
...
Politics
...
Computers
. Man oh Manechevitz.